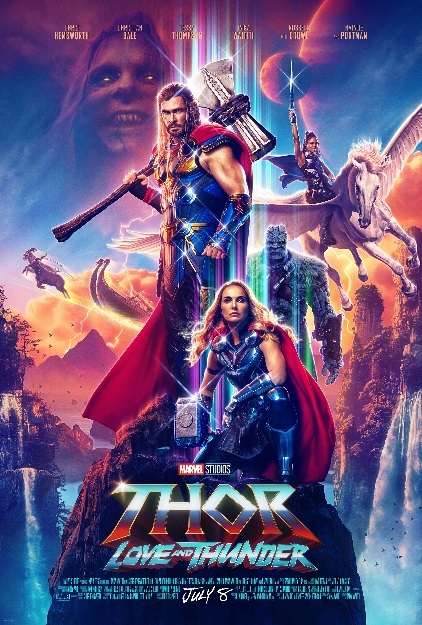 Don't forget that you can get this and a lot of extra weekly content by supporting us on PATREON
We are ALL here this week to review the newest Marvel movie, Thor: Love and Thunder (2022), but first...
Rob watched The Boys Season Finale, Umbrella Academy and "The Future Of..." Docuseries
Reggie watched Strange New Worlds, The Boys, American Horror Story, Slice, Mid90s and The Man Who Fell to Earth
Dawson watched Mid90s, Slice, The Bear, Girl Next Door, The Boys and Ms. Marvel
Brent watched Scream: Legacy, Slice and Mid90s
James Cameron Yells at a Cloud
Do we have our MCU Wolverine? 
Godzilla V Kong Round 2
$5000 Star Wars Drink
Howard Stern and Doctor Doom?
Duffer Bros form Upside Down Pictures
Echo News
Sony Pictures Animation First R-rated Animated Film
Nic Cage is Going to be a Dragon?
Endgame Directors' New Movie Sets Up MCU-Style Shared Universe
We now have a mid-week show called Cutting Room Floor that you'll only be able to catch by jumping aboard our Patreon, so go give it a look and toss us some cash if you have extra. You'll get an early release of the show (RAW LIVE SHOW on the weeks when we go live) most weeks and a bonus show every single week that no one gets for free!  If you don't feel like tossing us a little dough, fear not because the regular show will remain exactly the same each and every week.  THANKS FOR LISTENING!
Follow us on Twitter
Brent @XNotMalcolm
Rob @Robbap1
Reggie @Hiddanas
Dawson @andy_dawson
You can also e-mail to us at CinemaChatPod@gmail.com
You can find all of our previous scores HERE
Thanks for listening!!