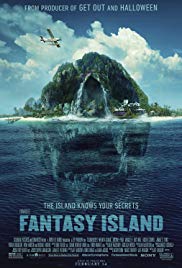 Don't forget that you can get this and a lot of extra weekly content by supporting us on PATREON
GET YOUR VOTES IN FOR THE 2020 CHATTIES!!!
Rob is in Israel so it's Brent and Reggie with a little bit of Dawson!  This week we reviewed Fantasy Island (2020), but first...
Rick Moranis back for Honey I Shrunk The Kids Sequel
Studio Ghibli made 38 albums (over 600 tracks) avaliable on all streaming services
Batman Set Photos
Rocketman director Dexter Fletcher to direct reboot of the Saint
Lucasfilm has hired J.D. Dillard and Matt Owens to develop a new project
Parasite cleans up at Oscars
Sam Neill will return for Jurassic World 3
Train To Busan 2 Pennisula wil get a US release
Box Office (Feb 14 -16)
We now have a mid-week show called Cutting Room Floor that you'll only be able to catch by jumping aboard our Patreon, so go give it a look and toss us some cash if you have extra. You'll get an early release of the show (RAW LIVE SHOW on the weeks when we go live) most weeks and a bonus show every single week that no one gets for free!  If you don't feel like tossing us a little dough, fear not because the regular show will remain exactly the same each and every week.  THANKS FOR LISTENING!
Follow us on Twitter
Brent @XNotMalcolm
Rob @Robbap1
Reggie @Hiddanas
Dawson @andy_dawson
You can also e-mail to us at CinemaChatPod@gmail.com
You can find all of our previous scores HERE
Thanks for listening!!